We have quizzed The Bird team about the best things to do – and this is what they've come up with. Oh! Also, we've helpfully worked out the distances from The Bird and popped in some post codes that will help you find local parking.
Bradford on Avon – or BOA, as the locals call it.
8 miles (12) minutes on the train from Bath Spa Station
You'll find a bit of everything at this cracking history soaked market town, an ancient 13th century bridge with the River Avon running through, shopping, restaurants and inns.
Take the train and make the journey here part of your story. From Bath Station, it's a beautiful short ride from Somerset and into Wiltshire passing through some lovely countryside and along the River Avon.
Unmissable sights include:
The Saxon Saint Lawrence church, dating back to around AD 705, the and the Saxon Tithe Barn dating back to the 14th century.
For a bite to eat, one of the best tea rooms around is the Bridge Tea Rooms, the building dates back to 1502 AD ( try the excellent cheesecake). For brunch, lunch or dinner go to the Weaving Shed run by Richard and Natasha, or opt for great Thai food at the Thai Barn.
 Top Tip: An absolute must is the excellent Doghouse, one of the best pet shops you will find with its own café,  and there is a small farmer market every Thursday in the library car park.
BA15 1DE
Castle Coombe
12 miles
A really stunning quintessentially English village which takes its name from the nearby 12th century castle. In fact, Castle Coombe is  often referred to as the "prettiest village in England."
Worth seeing is The Dower House and St Andrew's Church which is reputed to have one of the oldest clocks in England.
Head to the centre to see a 14th century Market Cross, and two village pumps.
There are a few shops in the village, but you can also buy homemade cakes and flowers from local houses as you walk by.
Top Tip: We would recommend the Manor at Castle Coombe, a great hotel for afternoon tea.
SN14 7HU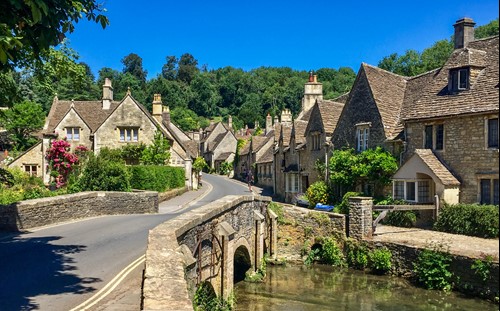 Lacock Village and Abbey
13 miles
You will understand immediately why this superb village has been used in so many film sets, including Harry Potter and the Half Blood Prince, Wolfman, Fantastic Beasts and Pride and Prejudice.
At its heart is the 13th century Abbey and Fox Talbot museum.
The Abbey started as a nunnery and became a Tudor Home. Its claim to fame is that it was the birthplace of photography. William Fox Talbot and his family lived in the abbey, in 1835 he captured the first photographic negative of the south facing oriel window. The photography museum is excellent.
The Abbey is outstanding and looks today as it would have done 200 years ago, it's superbly maintained and great for modern day Instagram!
The village has some lovely tea rooms, we'd recommend King Johns Hunting lodge and for lunch the excellent Sign of the Angel. If you want to take away, The Lacock Bakery is good and also has sweets for the kids.
Top Tip: Whitehall Garden Centre is one of the best around and just across from Lacock Village, great for plants and gifts and also a good café
SN15 2LG
Frome
13 miles
With quaint cobbles streets and wonky old buildings, there's a certain air about Frome – the original Somerset market town.
Make sure you…
Saunter along some windy streets, including Cheap Street, which has a stream running down the middle.
Stop off at the excellent Café La Strada and watch the world, well Frome world go by, or for a more substantial meal, we'd recommend Bistro Lotte or the Rye Bakery.
Don't miss St Catherine Hill, one of the best streets around with arts and craft shops filling every building on either side of the cobbles.
Try PostScript, a great stationery shop or Solsken for gifts. We highly rate Assembly which is one of the best independent men's clothes shops around.
Frome market takes place on the first Sunday of every month from March to December, and is bursting full of goodies, including some rather special food stalls.
Top Tip: On your way there – or back – pop into Whiterow Farm about halfway between Frome and Bath. You will find an excellent produce shop which is famous with locals and great fish and chips (BA11 6TN).
Parking: BA11 1BE (Frome Main car park)
Stanton Drew Circles and Cove
15 miles
Both mysterious and majestic, we absolutely LOVE it here, so make time to marvel at this spectacular array of prehistoric standing stones.
Stanton Drew has one of the largest stone circles in the country with twenty-six surviving upright stones.
The area is 113 metres in diameter -  a huge expanse, so we'd definitely recommend wearing some sturdy shoes.
It's just a £1 entrance fee which goes to the landowner, and take a picnic with you, which can be pre-order from us.
BS39 4EW
Glastonbury
26 miles
Music festival aside, Glastonbury is firmly on the map for its ancient and mediaeval sites, many rich in myths and legends.
It also happens to be one of our absolute favourite days out.
Just to walk around is fascinating with its new age community;  the shop owners are very welcoming, and you'll find incense sticks, tarot cards, salt lamps, mythical books in abundance.
A visit to the Abbey is recommended. We'd suggest reading about this town's most amazing history and connections with mystical England including King Arthur. The Market Cross, dating back to 1846 and the George Hotel and Pilgims Inn (built in the late 15th century to accommodate visitors to the abbey) are really great to see.
We'd recommend the Speaking Tree Bookshop, Somerset Crafts and of course the Witchcraft shop!
The Tor is quite lovely, with the remains of St Michaels Church at the top, it's a short walk to the summit and is easier than it looks. The views are beautiful of Somerset, Dorset and Wales, and at the top you can usually find people playing the guitar and singing.
Top Tip:  Head to the top of the Tor at dusk, it's particularly emotional…
Glastonbury Car park – BA6 9LJ
For the Tor there is only accessible parking so park at the Rural life Museum on the A361, it's a short walk
Stonehenge
35 miles
This is one place which doesn't need much narrative or introduction. It's awe inspiring, magnificent and mystical. 
Archaeologists believe Stonehenge was constructed from 3000 to 2000BC, it's  a World Heritage Site and one of the most famous landmarks in the world, what more can we say!
SP4 7DE
If you don't have a car transport can be provided by Around and About Bath on 08000 747949
Top Tip: For an alternative view, watch Stonehenge appear magnificently in the distance from the A303.